Since 1996, the wines of Domaine Jean-Yves Bizot have never ceased to impress the enlightened wine lovers who have the chance to taste the very rare wines of the winemaker whose humility is as great as his talent.
On 22 February, we invite you to reserve your place for a dinner that will transport you to the stars to celebrate two firsts: the first Baghera/wines auction in Singapore and the first worldwide auction made up of 100% of Domaine Jean-Yves Bizot's bottles, totalizing over 230 bottles. This historic first sale will take place on 23 February 2023 online only.
The collectors have chosen six wines for you, allowing a geographical tour of the estate's appellations, starting with a Hautes-Côtes de Nuits Blanc 2012 and ending with the famous Echézeaux and the extraordinary 2005 vintage. A unique dinner with a menu created especially for the occasion by chef Julien Royer and his team.
Only eight places are available for this event.
Wednesday February 22, 2023
Dinner at 7pm
Mandala Club, 
31 Bukit Pasoh Rd,
Singapore 089845
• Champagne Krug vintage 2004
Directly from the cellar of European private collectors.
• Hautes-Côtes de Nuits Blanc 2012
• Bourgogne «Le Chapitre» 2013
• Marsannay «Clos du Roy» 2009
• Vosne-Romanée 2017
• Vosne-Romanée «Les Jachées» 2007
• Echézeaux 2005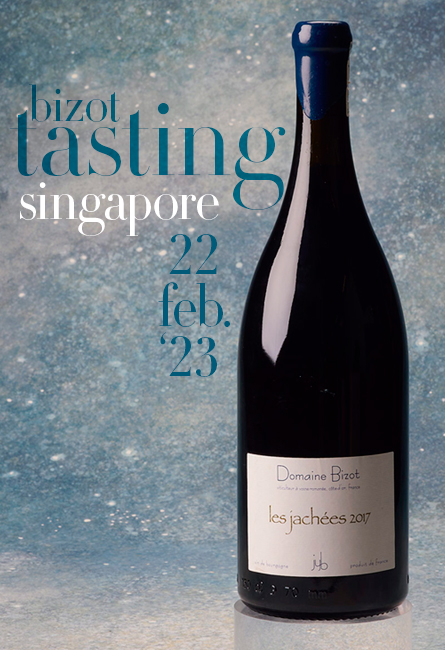 The Reine des liqueurs is a mystery and will remain so. It is the magic of silence, secrecy and loyalty. Chartreuse is a recipe handed down for centuries between monks, which many have tried to imitate without ever succeeding. The complexity is such that no one has ever succeeded in discovering all the plants that compose it.
Save the date on February 16, 2022, for a dinner around 10 Chartreuses, in the presence of the collector of the "Once upon a time… Chartreuse" sale, who will invite you to taste different periods (1951 to 2018) that the Chartreux produced, accompanied by the extraordinary anecdotes that only the collector can tell you.
Whether you are a fan of Chartreuse or want to discover the world of this liqueur de longue vie (according to the saying), the tasting around dishes to share, made to measure by Mathieu Escoffier and his team, will be a timeless moment that only the Pères Chartreux' liqueur can offer.
Thursday February 16, 2023
Dinner at 7pm
Restaurant Ma Cuisine*
38 Craig Road, Singapore
02.
The proposed Chartreuses
A champagne will be served as an aperitif and during the meal for refreshment.
Yellow Chartreuse Cuvée "Tau" 2018
Chartreuse Cuvée "Reine des Liqueurs" 2018
Chartreuse Voiron "Cuvée du foudre 147" 2019
Yellow

Chartreuse 43° Voiron period 1964-1966

Yellow

Chartreuse 40° Tarragone period Fabiola 1966-1973

Chartreuse Episcopale "Cuvée des fous de la Chartreuse" 2009
Green Chartreuse "Cuvée Vieillissement exceptionnellement prolongé" 1994
Green Chartreuse Tarragone "El Gruno" 1964-1996
Green Chartreuse Tarragone "Licor Cumbre" 1951-1959
All the Chartreuses come directly from the collector's private cellar.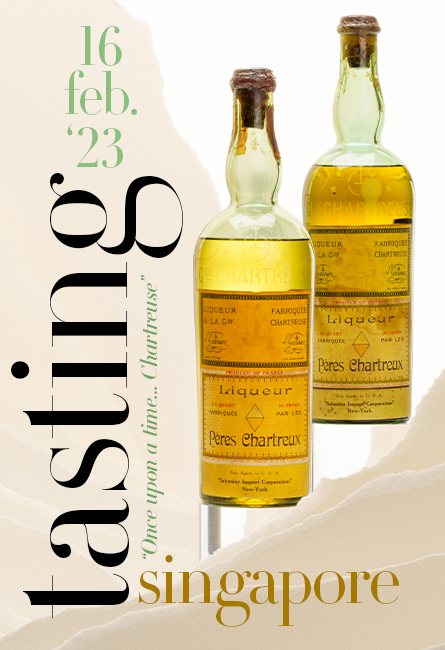 A few weeks ago, a cycling event was held in Singapore around the very famous "Tour de France". Out of curiosity, we immersed ourselves in the history of the first "Tour de France" founded by Henri Desgranges in 1903.
After reading, we realized that the cyclists had crossed the most beautiful wine regions of France starting from Paris. It's our turn, for one evening, to go through five of the most beautiful French wine regions surveyed by these mythical athletes.
Thursday January 12th 2023
Dinner - 7pm
Mandala Club
31 Bukit Pasoh Rd,
Singapore 089845
- Departure from Paris
Domaine Henriot blanc de noir 2005 - Magnum
- 1st stage: Paris - Lyon "not far from Burgundy"
Domaine François Gaunoux - Gouttes d'or 2008
Domaine Robert Groffier, Les Amoureuses 2015
- 2nd step: Lyon - Marseille "via the residence of the Popes"
Domaine Henri Bonneau, Réserve des Célestins 2011
- 3rd step: Marseille - Toulouse « sun and farniente »
Domaine de la Grange des Pères 2011
- 4th step Toulouse - Bordeaux « towards the Atlantic »
Château Cheval Blanc 1996