If there is one wine dinner not to be missed in Singapore this April, it is this one. We are organizing it as a family-style meal because this sale, which is associated with this convivial moment, evokes the feeling of a family's wine cellar, where they love to entertain and share with those they particularly care for.
Let's follow the recommendations of Michael Ganne, who has curated the selection of wines that we offer for this dinner, perfectly matched with the dishes from Ma Cuisine* Singapore's spring menu.
Friday, April 28
Ma Cuisine Craig Road 38
At 6:30.pm : (auction will start 7.p.m)
- Champagne Krug Vintage - 1988
- Domaine Didier Dagueneau, Silex - 2005
- Domaine Didier Dagueneau, Silex - 2006
- Domaine Arnaud Ente, Meursault - 2010 
- Domaine Hudelot-Noëllat, Richebourg - 2016
- Château Mouton-Rothschild - 2000 
Price : 2200 SGD (excluding gst)
(the reservation is effective upon receipt of payment of the ticket price in full)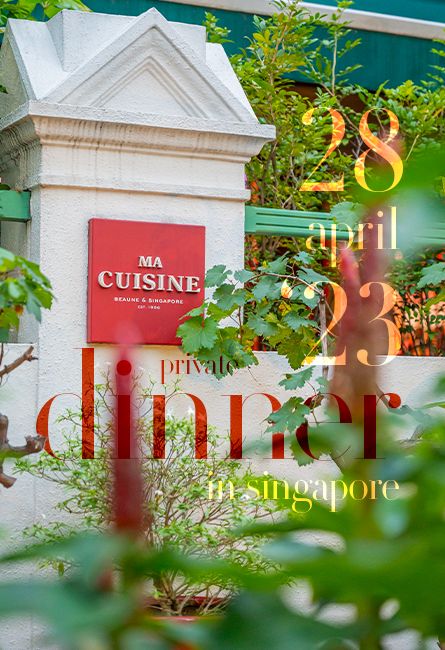 The Reine des liqueurs is a mystery and will remain so. It is the magic of silence, secrecy and loyalty. Chartreuse is a recipe handed down for centuries between monks, which many have tried to imitate without ever succeeding. The complexity is such that no one has ever succeeded in discovering all the plants that compose it.
Save the date on February 16, 2022, for a dinner around 10 Chartreuses, in the presence of the collector of the "Once upon a time… Chartreuse" sale, who will invite you to taste different periods (1951 to 2018) that the Chartreux produced, accompanied by the extraordinary anecdotes that only the collector can tell you.
Whether you are a fan of Chartreuse or want to discover the world of this liqueur de longue vie (according to the saying), the tasting around dishes to share, made to measure by Mathieu Escoffier and his team, will be a timeless moment that only the Pères Chartreux' liqueur can offer.
Thursday February 16, 2023
Dinner at 7pm
Restaurant Ma Cuisine*
38 Craig Road, Singapore
02.
The proposed Chartreuses
A champagne will be served as an aperitif and during the meal for refreshment.
Yellow Chartreuse Cuvée "Tau" 2018
Chartreuse Cuvée "Reine des Liqueurs" 2018
Chartreuse Voiron "Cuvée du foudre 147" 2019
Yellow

Chartreuse 43° Voiron period 1964-1966

Yellow

Chartreuse 40° Tarragone period Fabiola 1966-1973

Chartreuse Episcopale "Cuvée des fous de la Chartreuse" 2009
Green Chartreuse "Cuvée Vieillissement exceptionnellement prolongé" 1994
Green Chartreuse Tarragone "El Gruno" 1964-1996
Green Chartreuse Tarragone "Licor Cumbre" 1951-1959
All the Chartreuses come directly from the collector's private cellar.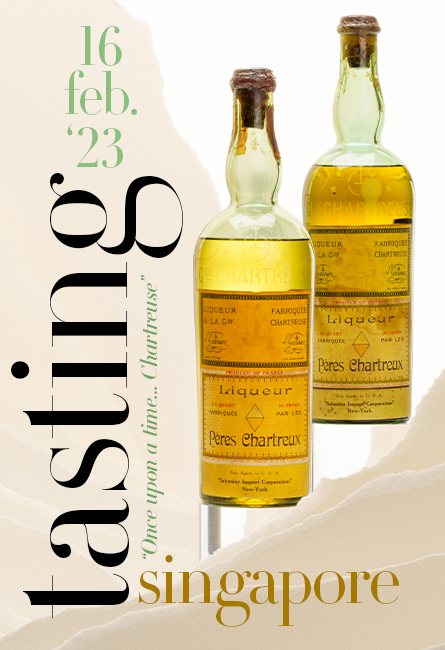 数周前,新加坡举办了"新加坡环法绕圈赛"。出于好奇,我们沉浸在 Henri Desgranges 于 1903 年创立的第一届"环法自行车赛"的历史中。
环法路线是从巴黎出发,穿越法国最美的葡萄酒产区。我们的约会也穿越这些神话般的五个最美丽的法国葡萄酒产区。
2023年1月12日星期三
晚餐
7pm
Mandala Club
31 Bukit Pasoh Rd,
Singapore 089845
-  巴黎出发
Domaine Henriot blanc de noir 2005 Magnum       
第一阶段:巴黎里昂 - 勃艮第区
Domaine François Gaunoux,Gouttes d'or 2008
Domaine Robert Groffier, Les Amoureuses 2015
- 第二阶段:里昂马赛路 - 教皇区
Domaine Henri Bonneau, Réserve des Célestins 2011
- 第三阶段:马赛 - 图卢兹、阳光和松弛!
Domaine de la Grange des Pères 2011
- 第 4 阶段图卢兹 – 波尔多
Château Cheval Blanc 1996