What could be better than gathering around the best wines in the world to celebrate the first Baghera/wines auction in Asia?
Francesco Lee, Baghera/wines Asia Director, invites you on May 26th to a bespoke event reserved for 10 guests only around a BYOB with for thematic "Rares French 'gems' wines to share." 
The wines will be accompanied by a tailor-made menu by Soho House in consultation with Francesco Lee. 
Join us on May 26th at 6:30 pm (auction start at 7:00 pm) for a moment of sharing around wine and animated bidding! Francesco will be with you to take your bids by phone live with our teams in Singapore allowing you to bid.
Friday May 26th, 2023
SOHO HOUSE HONG-KONG - MEMBER'S CLUB
6.30.p.m : Dinner start
7.p.m : Auction start
No charge - upon confirmation from Francesco Lee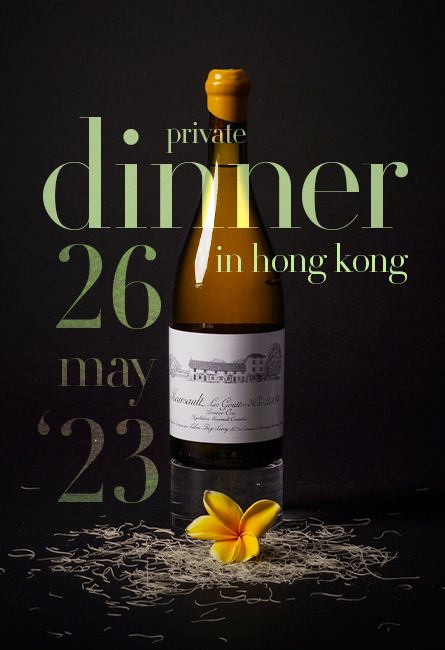 If there is one wine dinner not to be missed in Singapore this April, it is this one. We are organizing it as a family-style meal because this sale, which is associated with this convivial moment, evokes the feeling of a family's wine cellar, where they love to entertain and share with those they particularly care for.
Let's follow the recommendations of Michael Ganne, who has curated the selection of wines that we offer for this dinner, perfectly matched with the dishes from Ma Cuisine* Singapore's spring menu.
Friday, April 28
Ma Cuisine Craig Road 38
At 6:30.pm : (auction will start 7.p.m)
- Champagne Krug Vintage - 1988
- Domaine Didier Dagueneau, Silex - 2005
- Domaine Didier Dagueneau, Silex - 2006
- Domaine Arnaud Ente, Meursault - 2010 
- Domaine Hudelot-Noëllat, Richebourg - 2016
- Château Mouton-Rothschild - 2000 
Price : 2200 SGD (excluding gst)
(the reservation is effective upon receipt of payment of the ticket price in full)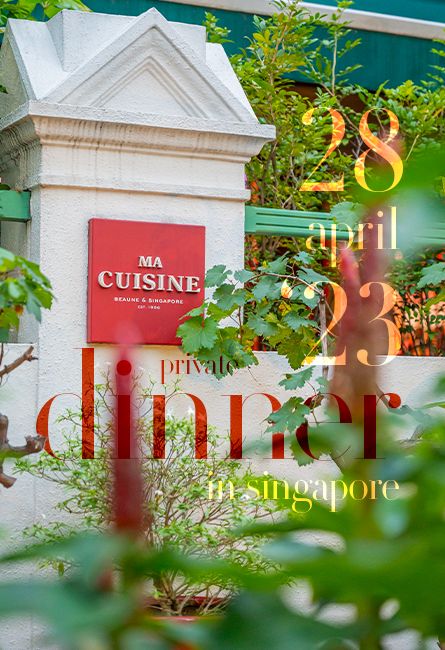 After several exceptional auction dinners, we jointly wished to offer you a different version of these famous moments. We are therefore delighted to propose you to join us for our first "Dîner Particulier" on November 27th 2022 at Ma Cuisine Singapore.

For this format, no line-up but an iconic & ephemeral Baghera wine menu composed of the greatest winery and vintages present in the Moonlight auction broadcasted live on the night.
This is a great opportunity to taste wines that interest you the most or to take advantage of this moment to discover wines that you may never have tasted before, all accompanied by a menu specially created for the occasion by Mathieu Escoffier or to share some of the most famous Ma Cuisine dishes "à la carte".
01.
Menu & "Moonlight" wines
Sunday 27th of November 2022
7pm
'Ma Cuisine'
38 Craig Rd, Singapour 089676
phone +65 6224 1838